Date/Time
Date(s) - 23/09/2024 - 27/09/2024
0:00
Categories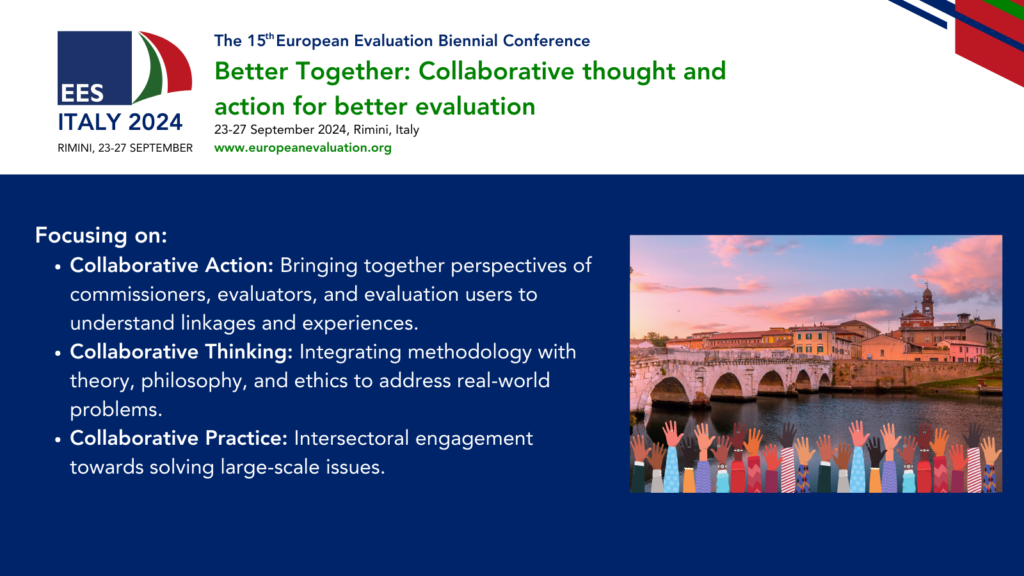 Date(s): 23 – 27 September 2024
Location: Rimini, Italy
The world is in a state of polycrisis, facing urgent challenges like environmental degradation, social injustice, and economic instability. These complex issues require new approaches beyond siloed, linear thinking. Collaboration across disciplines, sectors, and perspectives is essential to develop innovative, inclusive solutions.
At the EES-2024 Better Together conference, we will explore how collaboration can lead to more effective, transformative evaluation and social change. This event offers a timely opportunity to leverage the diverse experience of the EES community to reframe evaluation and promote positive impact.
Click here to download the full 2024 conference theme
Three Strands Focused on Collaboration in Evaluation

Collaborative Action: This strand brings together the distinct perspectives of evaluation commissioners, evaluated parties, evaluation users, and evaluators to understand linkages in their experiences with a common issue or subject. Sessions will provide a space to articulate how different evaluation actors have uniquely different vantage points when faced with the same problem, process, or product.
Collaborative Thinking: This strand centers on integrating methodology with theoretical, socio-political, philosophical, and ethical considerations to address real-world issues. Sessions will examine how distinct worldviews and ethical concerns can shape methodological approaches to problem-solving. The goal is to advance understanding of how philosophical frameworks informs methodological choices.
Collaborative Practice: This strand focuses on intersectoral collaboration engaging experts across fields to solve complex societal problems like climate change, inequality, and health. Sessions will identify how diverse sectors can work together to evaluate and address shared goals for transformative change.
Innovative Session Formats
Papers
Panels
"Meet the Evaluation" discussions
"Solution Focused" workshops
Fishbowl dialogues
Poster sessions
Emphasis on Inclusion
We aim to include diverse voices, with a focus on young evaluators, the Global South, and intersectional perspectives.
Important Call Details:
The call for abstracts will be open on a rolling, first come first served basis from October 15 to March 15. Early submission is highly recommended, as late submissions may be rejected due to limited space.
The number of submissions per individual is capped at two. Please ensure joint submissions adhere to this limit.
We will continue recent innovations like lunchtime sessions to enable attendee choice while reducing parallel tracks.
Submit your abstract early to secure your place at Better Together 2024!
Collaborate with Us
We invite TWGs and communities of practice to co-create sessions that demonstrate new collaborative approaches in their fields.
Together we can reframe evaluation to meet the complex challenges of our time. Join us as we explore how we are better together!
Click here to download the full 2024 conference theme.