Date/Time
Date(s) - 14/11/2023 - 16/11/2023
0:00
Categories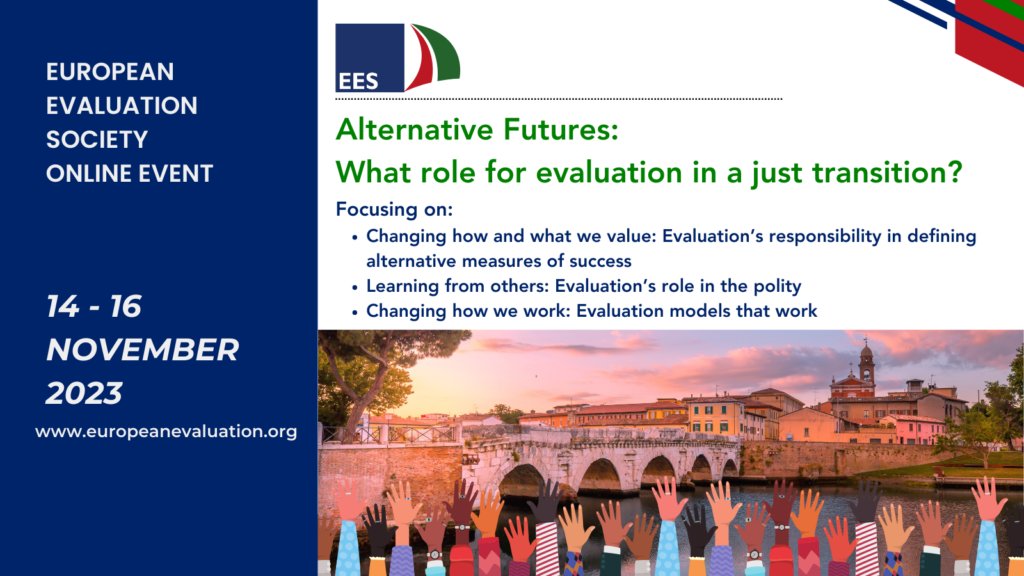 Come join us for the biggest EES event of 2023!
Our two days of conferencing preceded by a day of professional development workshops, offer participants the opportunity to engage with major state of the art developments in evaluation, learn from and network with the leaders in the field and help shape the direction of evaluation for transformation in these critical times. Let's come together to imagine and plan an alternative future:

Our theme
Alternative Futures: what role for evaluation in a just transition?
Changing how and what we value? Evaluation's responsibility in defining alternative measures of success
Changing how we work? Evaluation models that work to support a just transition
Learning from and with others? Evaluation's role in the polity
We will collectively seek answers to questions facing the contemporary evaluator: in a time of fast-paced change and overlapping (poly)crises, what role should evaluation play in this transition? How can our discipline, profession, community take a decisive and distinct part in the fast changing World? What would it take?
By coming together, we can influence and leverage positive change. Join us from wherever you are in Europe or the world!                        
By bringing evaluation practitioners, academics, policymakers, and other stakeholders together to exchange and discuss views, ideas, evaluation results, and research findings, let's collectively be the change.
A key strength of past EES events has been in their inclusive and accessible nature, and we aim to continue this for this online event. Our last conference in 2022 had over 600 participants joining in from all over the world. The major success features of our online events, are the connectivity to others in the field and the chance to get up to speed with fast-moving topics and domains. This event offers similar opportunity to bring together our global community to debate, network and discuss the direction of evaluation and its development in these tough times. We believe that everyone has something to offer in the field of evaluation, and we want to make sure that everyone has the opportunity to participate. For this reason, we want to keep the price of our event as low as possible to ensure that everyone, regardless of their financial circumstances, can participate and contribute to moving evaluation forward.
For a full description of the main conferencing event including submission deadlines, please click here or visit www.conftool.pro/ees2023
Professional Development Workshops:
Are you looking to stay ahead of the curve in evaluation? We will be offering half day workshops on the 14 November that will cover the newest trends and methods in evaluation.
In our workshops you have the opportunity to learn from experts in the field and share your own experiences.
We are delighted to offer the following workshops:
Equity and Social Justice in Evaluation – Khalil Bitar
Using AI in Evaluation – Silva Ferretti and Rick Davies
Transformation Criteria – M. Q Parton and Ian Goldman
Applying Systems Approaches – Jonny Morrell
Contribution Analysis for Impact Evaluation – Giel Ton
Integrating Foresight in Evaluation – Annette Gardner
Sustainability Assessment: from ESG Rating to Complex Theories of Change – Mita Marra, Veronica's Olazabal and Juha Uitto
Conceptualising the Just Transition – Kevyn Hassall and Thomas Delahais
More information on individual workshops will be available after 22 September 2023.
PDW fees and registration: 
Registration for individual workshops will be possible starting on 18 September 2023.
PDW fees for EES members: 110 EUR (incl. 21% VAT)
PDW fee for non-members: 140 EUR (incl. 21% VAT)
For more information on the abstract submission process, please visit www.conftool.pro/ees2023, or click here to download. Call for abstract opens on the 12 of July 2023 and will be active until the 22 of September. Links to the submission portal will be open within these dates.
We hope to see you there!